Accredited Coaching Signatures Supervisor (ACSS) Training Programme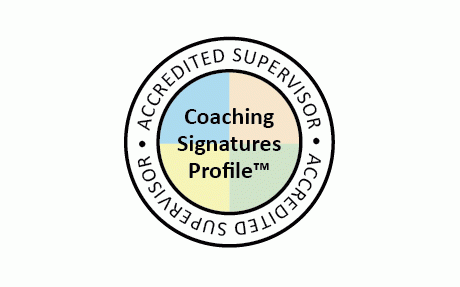 By becoming an
Accredited Coaching Signatures Supervisor (ACSS)
you have a unique ability to attract new clients be they coaches or people development practitioners from all professional fields.
Would you like to significantly enhance your current supervision offering to existing clients to invite them to complete their unique Coaching Signatures Profile® (CSP) and receive a comprehensive report as part of a Coaching Signatures Supervision session?
As an ACSS, you are able to supervise your clients to give them the benefit of learning, understanding and developing:
Analysis and insight of their most natural 'self' coaching signature
Provision of a framework and shared language to develop, monitor and evaluate their coaching practice
Awareness of different coaching postures they adopt with clients
Creative interventions for developing alternative & appropriate coaching strategies
Matching coaching practice appropriately
Adherence to best practice
Increased self-awareness, versatility and confidence within their coaching practice
Overview of the ACSS Training Programme
The ACSS training programme is delivered either over five x 1½ hour virtual sessions or two half day face-to-face sessions.
The ACSS programme is suitable for coach supervisors and there will be an opportunity for them to complete their own Coaching Signatures Profile® (CSP) and receive supervision feedback either prior to or during the programme.
As part of the programme, you are required to profile and deliver a coaching signatures supervision session to a client.
We work with both independent practitioners and corporate clients and will be pleased to explore any group training arrangements you may want.
Once accredited you will become a member of our:
ACSS Supervision Community of Practice (SCoP)
Sharing a passion and commitment to the ethos of supervision
The ACSS SCoP meet virtually at least twice a year to share experiences, resources and news in the wider practice of supervision and the different ways we use and benefit from the CSP and related resources.


We are a vibrant group who enjoy re-connecting with existing colleagues, meeting new members and generally putting the world of supervision to rights!

Please contact CSC Limited for more in-depth information. We'd be delighted to have a conversation with you.
Created with